Save and budget your way back to the classroom!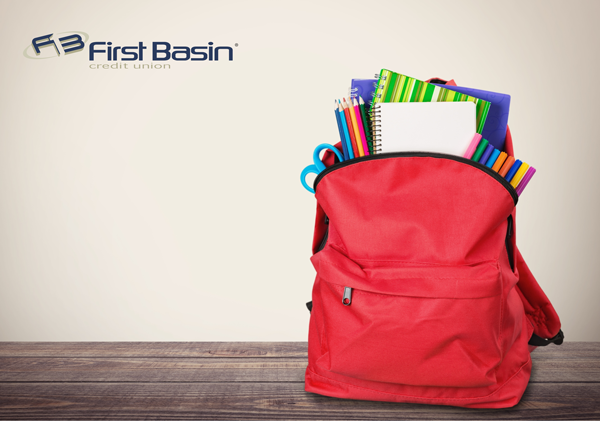 07-16-2018
---
I was simply going to the store for a pair of goggles and a float for the swimming pool – it is still summer, right? To my complete surprise I was greeted by large "Back to School" displays with brightly colored folders, crayons, backpacks, lunch bags and all those wonderful necessities our kids need each school year. It is already time to start getting back into the swing of things – and that means making sure I have a "Back to School" shopping savings plan!
Yes, just like we plan for summer vacation, we also need to make sure we are prepared for the school year. First Basin wants to share a few ways to keep you financially savvy as we prepare to walk back into the classroom with our kids.
Before you even head out to the stores, take an inventory of what you already have. At the end of each school year, there may be extra packs of paper left behind, pens or markers that still work great, or scissors, rulers and pencil boxes that can easily be reused – the list really does start to grow once we see what we already own. A quick rule of thumb is to keep a plastic bin in your house that you can place all your supplies in each year. That way you have all you need in one place and can see what really does need to be replenished.

So, we have our list and we feel ready to walk into the store now. Before you grab that shopping basket, be sure you have a solid budget in place – how much can you afford to spend? We ask this question, because (for example) if you get paid twice a month and can spend $120 when you get paid on the 5thof the month and $80 when you get paid the 20thof the month, plan accordingly. Separate the "need nows" for the "need laters" – especially on higher priced items such as new shoes, backpacks and clothes.

When it is time to buy, did you know that timing really iseverything? While the crowds may be daunting, making your purchases during the Texas Tax Free Weekend can save you about $8 on every $100 you spend, according to the Texas Comptroller of Public Accounts. Most clothing, footwear, school supplies and backpacks priced less than $100 are tax exempt. So, start preparing that list now so you know what you will be looking for Friday, Aug. 10 through Sunday, Aug. 12.
Text and email alerts are another super easy way that your savings can add up! We receive countless text messages and emails throughout the day – add a few more from your favorite shops and watch as the savings begin to pour in. Being a shopper who is "in the know" will bring you special sales, discounts and coupons. An added bonus? A lot of stores offer a 10-15% coupon code for simply signing up to be on their email list!

We all know Google is our go-to for many answers – well, be sure Google is your best friend for "Back to School" savings, too! One quick search for "Back to School Deals," and I found great deals at our favorite stores like Walmart and Staples – 35 cent folders, 50 cent crayons and glue! It is always a plus to use technology to our advantage, especially when it comes to saving money.

First Basin Credit Union wants to make sure you are financially fit throughout life's various adventures. We know seasons sneak up on us – such as spring break, summer, back to school, and of course the holidays and we want to ensure our members are prepared. Visit us at any of our branches or simply take a look through our website to see all we have to offer in savings accounts, vacation accounts, CD's IRA's and more, so you are set for each season.
---