Let's Talk Checking and Savings...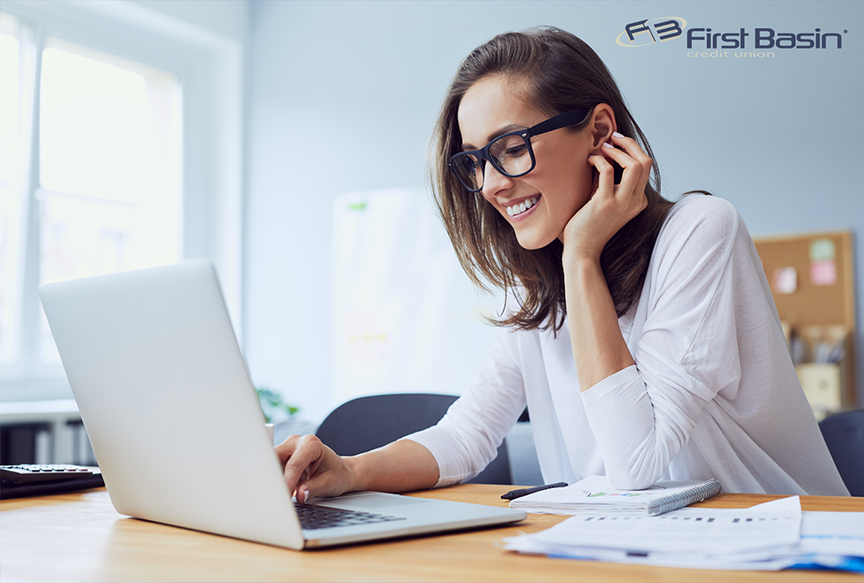 06-14-2019
---
When it comes to your money, you always want to know your options so you know what fits best. So, what choices does First Basin Credit Union offer when it comes to checking and savings accounts?
First, let's look at what each type of account is designed to do:
Checking accounts are designed to assist with every day transactions. Your money is accessible through checks, a debit card, walking into a branch, going online or visiting an ATM. A checking account is what you typically use to pay your bills, make deposits or payments and to transfer money.
A savings account is used to securely hold your money and earn interest over time. Note:Interest is a set-rate of money paid to you by First Basin for the money you deposit and leave in your savings account. Savings accounts are an excellent way to build up your money, save for a goal – such as a trip, or down payment on a car – or can also be used to create an emergency fund.
First Basin stands by the word "free" when it comes to our Free Checking. There is no required minimum balance and members enjoy free Online Bill Pay, no "per-check" charges, free ACH PowerPay, free notary services, and a free Instant Issue Debit Card to access your money at ATMs. There are no monthly fees, and you can set-up your direct deposit and payroll deduction for free and with ease. Overdraft protection is also available. You do not earn interest on Free Checking, but you can earn it with FBCU "Checking Plus"!

FBCU Checking Plus is an excellent option for our members who would like to earn a little interest on their money. FBCU Checking Plus also has no monthly fees and offers the same perks as our Free Checking accounts! The bonus? You can earn .10% interest as long as you keep a minimum balance of $500 – that sounds like a great deal!
We are also often asked if we offer Business Checking – the answer is, yes, we are proud to serve our members in a business capacity. Our Business Checking accounts offer low fees and useful services to make financial management simple. Our Business Checking accounts enjoy free Online Bill Pay, free Instant Issue Debit Card, free change orders, and unlimited check writing. Other great services include: free access to a Financial Fitness Planning Advisor, five free check copies per month, duplicate checks and $500 courtesy pay. FBCU does require a $200 minimum opening balance, and a $1,000 minimum balance – a $10 monthly service fee is assessed if daily balance goes below $1,000 on Business Checking accounts only.
We certainly did not forget our young members either – if you are trying to teach your children the importance of managing their money, then a Kidz Club Super Saver Account is just what they need. A parent or legal guardian must be a joint owner on the account since Kidz Club members are under 18 years of age. Kids only need a minimum opening balance of $5 – and FBCU matches their first $5 deposit! Our Kidz Club accounts earn up to .30% interest and kids can deposit as often as they'd like with their parent or guardian. That is not all – the day they open their account, your kids will be equipped with all they need to manage their money. This includes a free piggy bank, frequency card and account register, a pen, and t-shirt! Then, each time your kids deposit $10 into their account, they will earn one stamp. Once 10 stamps are collected kids can earn a backpack, 20 stamps will get them ear buds, and 30 stamps earns them a watch. We invite all our members and their kids to take advantage of this great lesson in saving!

What are the other options for saving money at First Basin? A Regular Share Savings is our basic savings account and is how you initially become a member. There is a $25 minimum account opening balance – since FBCU is member-owned, this $25 is your buy-in to the credit union. If you should ever close your account, you get to take your $25 with you. Interest earned varies, based on how much is in your account. You can earn up to .25% with a $1,000 balance, and up to .30% interest with a $15,000 balance. This is a great incentive to start saving those hard-earned dollars.
First Basin Credit Union offers multiple ways to ensure our members are able to manage their money in the most beneficial ways possible. Visit us online at www.firstbasin.com to find out more, or stop by and see us at any of our eight branch locations.
---