How Do I Put the Power in How I Pay?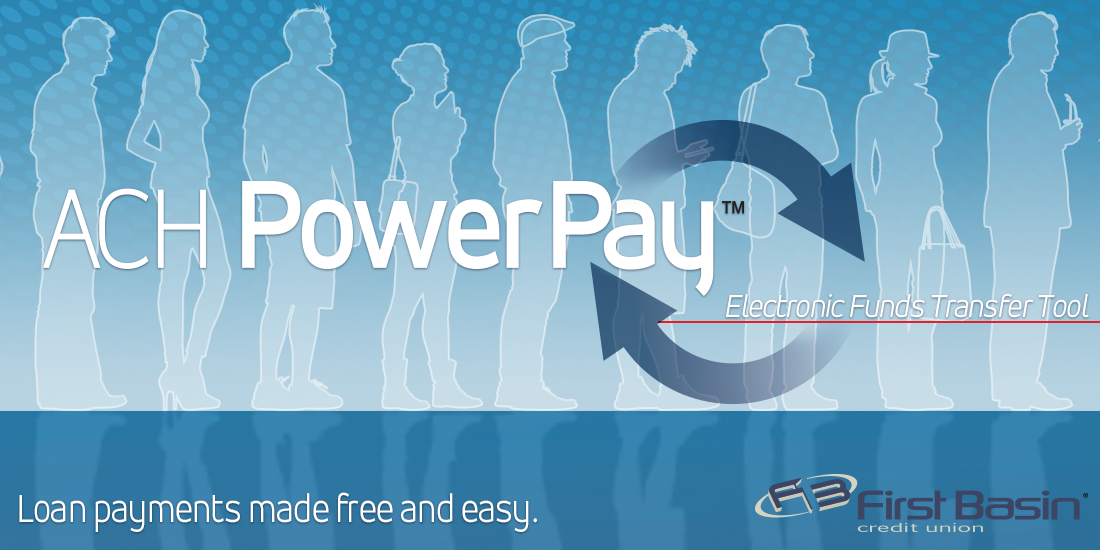 08-16-2018
---
Are you coming into one of our branches to make a monthly loan payment? Did you know it is possible to skip the line, make your payment and save valuable time? Allow me to introduce you to First Basin's ACH PowerPay.
ACH PowerPay is free electronic funds transfer from your financial institution straight to make a payment on your First Basin loan. We want to make setup as easy as possible and will help take you through the process – first, ensure FBCU has your email address on file. You will also need yourFBCU account number, the account number from your other bank/credit unionand their routing number. Now, let's get started:
First, login to Online Banking. (Note: If you aren't set up with FBCU's Online Banking, now is the time to do it! It is quick and easy.)


Once you are all logged in, click on "ACH PowerPay".


Select "Add Payee".


Enter the 9-digit routing number for your financial institution and click "submit".


Next, enter the account number and account type (checking or savings) from your financial institution. You may also enter an account nickname if you'd like. Click "submit".
Your bank will now be listed. On the left-hand side of your bank name under "status", you will see the words "in process". FBCU needs two to three business days to make a verification transaction with your newly added bank account.


Now, this is where we have received concern from our members: FBCU will make a small deposit and withdrawal from your account at your other financial institution within 3 business days. We are here to tell you not to worry. It is a very minimal amount – anywhere from 30-70 cents. This transaction is onlyto ensure the account you are adding is functioning properly and active to make your payment.


After 2-3 business days, check your online account or statement to verify the amount – the deposit and withdrawal will appear with our name, First Basin Credit Union.


Once you have the amount deposited and withdrawn, return to Online Banking at FBCU, and click on the "ACH PowerPay" tab.


Under "status" you will now see "verify" – click on "verify," enter the amount and click submit.


You are all done and ready to set up your loan payment through our ACH PowerPay electronic funds transfer!


Simply click "Transfer from," and choose your financial institution.


Select the Request Date.
Next, under "Transfer to," choose which account you will be submitting payment (example: your First Basin Auto Loan.)
Enter the payment amount.


Choose the transfer type: single payment or recurring.


You may then choose the frequency (weekly, monthly, annually, etc.)


Finally, select the number of transfers (Ex: once a week, once a month.)


That's it! Hit "submit" and you are all done and set up with ACH PowerPay electronic funds transfer!
Setting up ACH PowerPay is a very simple process that we, at First Basin, are happy to help you with or answer any questions along the way. Look for our new brochure at all our branches as well – it features step-by-step instructions on how to setup PowerPay from home.

ACH PowerPay, just one more free service First Basin Credit Union offers to ensure our members are always coming in first.
---